My favorite bead artist 1
May 19, 2023
My favorite Bead artists by Sabrina Frey, Bead Mosaic Artist
The term Bead art covers many different types of work done using beads. Here I'm going to focus specifically on one of my favorite artists (later we will cover some of the others) who at some point in their career were or are currently dedicated to working with beads as a mosaic artform. These artists also use other items in their work and may also incorporate other techniques with the beads sometimes, but their primary medium is/was working with beads and glue. As a natural course many artists start out using one technique and over time morph into something very different. I have tried to keep this list to artists who have not just tried beads on some pieces as part of their list of mediums but people who's main focus has always been beads. Please know that there are many other artists who are not listed here whose work is to be recognized and commended however on todays blog I am just focusing on three that vary greatly in their style and topics but I love none the less. The bio information given is taken from their websites and the links are provided so you can check out the sites for yourself and see numerous examples of their work. All of their work can be found easily by Googling their name and medium or using the links provided.
At the top of my favorites list is Ran Whang of NY and South Korea. Ran is a bead artist who has taken beads to the next level with multi layered large room sized beadworks that defy gravity and your imagination. She does not deal strictly in mosaics but has expanded into sculpture and beyond. Ran creates many types of work incorporating buttons with the beads in many of her larger scale installations. What a great way to offset the scale issue that going large presents. My personal favorite pieces include the palace shown below but also her Cherry Blossoms and all the architectural pieces. Her work is known globally and she has a team of helpers to get her ideas up and going. I always wonder what I could accomplish with a team of helpers? Here is just one of her creations, but I encourage you to go to her website and see all the amazing bead pieces she has created that are on display all over the world. This palace is called East Wind and is on display at the Pullman Kaifeng Hotel and measures 182 inches x 370 inches. I would be lost for days in the details. This particular piece is made of seed beads and buttons on pins to plexiglass. Someday I hope to meet Ran and ask her all my curious questions.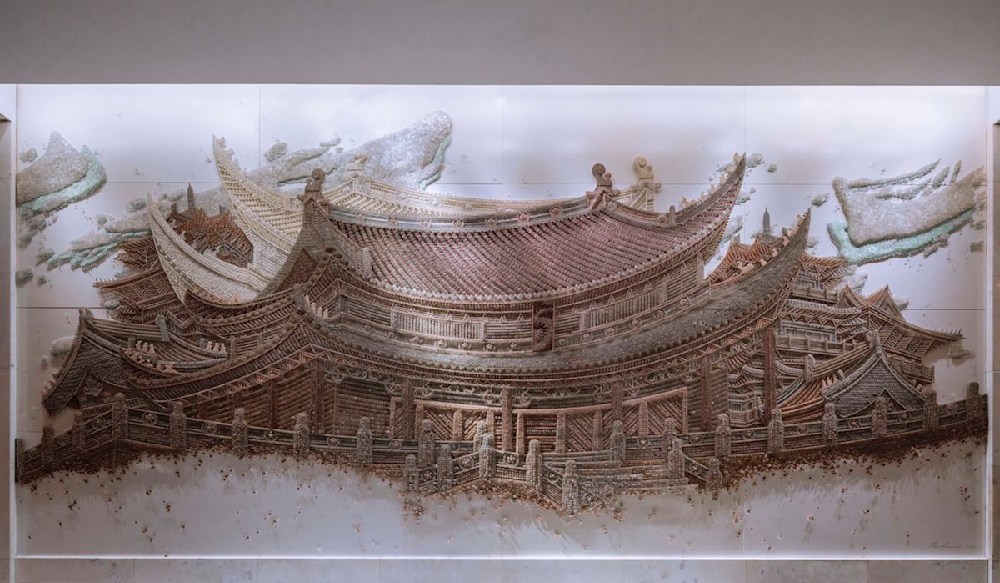 Here is her bio info that was copied from her website https://www.ranhwang.com/about
As a Korean born, New York based artist, Hwang creates large iconic figures that embody her preoccupation with the nature of cyclical life, non-visibility and the beauty of a transient moment. Her earlier career in the fashion industry and the personal memories of 9/11 attack have led her to adopt the everyday materials into the delicate and dramatic works, whereas the artist's lifetime practice of Zen Buddhism has blended into the sophisticated hand-work accompanied by repetition and penance. Through her performative and conceptual approach, Hwang depicts the time of reflection and rumination of a human being in the society. Hwang's work permanently resides in the collections of internationally acclaimed venues, including the Brooklyn Museum, New York; Museum of Fine Arts, Houston; Deji Art Museum, Nanjing; Dubai Opera House, Dubai; Des Moines Art Center, Iowa; New York University, New York and National Museum of Contemporary Art, Seoul.